Sustaining Nourishment Series
Create a healthy day to day recipe through Powerful mind boggling daily tools used for the rest of your life.
Eating daily meals, of breakfast, lunch or dinner combined with a snack or two are most people's habits. But do you know how healthy this food is for you? It may have tasted scrumptious, but what benefit was it for the body?
Food goes into the mouth daily, if your digestion is working well it will process food easily and hopefully absorb all the nourishment required to fuel you and your lifestyle.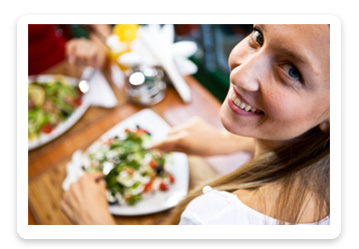 We all eat food without knowing what it does or how it affects the physical or emotional. Parents and friends have taught certain food values of what to eat, all have their own ideas.
Reading books or surfing the internet offer various diets such as Paleo, CSIRO, Atkins and FODMAP, to name a few. There is plenty of information and ideas.
Food is a constant bombardment at social functions, media advertises an array of diets and 'healthy eating solutions' such as gluten free, sugar free, high protein, fat free and more.
But what food is best for your body type? How do you really know?
We provide the opportunity to join our expert nutritionist to share with you, an easy understanding manner, how the body functions, what foods will help the body perform at its optimum.
Learn how to implement good eating habits to sustain you, have hormone equilibrium and help re energise; for life. Understanding these food benefits impacts everyone especially you and the family. Importantly, it will save thousands of dollars in health costs, preventing diabetes, cancer, high blood pressure and other major health issues.
Within these sessions you will learn how:
Good fats – Bad fats affects on the body
To apply – create a healthy diet
Food savings health and finances
To reduce illness eating specific foods
Nutrition is a vital part of the Five Healthy Habits for a wonderful life. Two small group sessions, will be held on Saturday mornings 10 am -12 noon.
Dates:
Session 1, Tweaking a Daily Diet for Ultimate Vitality
4 March, 6 May or 5 August
Session 2, Clear Nourishing Solutions Resolving Emotional Dysfunction
25 March, 3 June or 2 September
Value:
$255
Investment:
$137 for 1 and 2 sessions
Join Today: Call the clinic on 3351 4691
Restore your Gut – One on One
This personal strategy is for the person who wants individual assistance to create breakthrough food remedies and habits specific for an individual health journey. This one on one-hour session creates new easy organic nourishment.
Complete the Seven Day Diet Diary and return to Banksia the food and drinks consumed along with Nutrition Client History for the nutritionist to preview prior to the one-hour appointment.
The valuable tools learnt at this on-on-one will benefit you for the rest of your life.
Book your space today.
Contact Banksia Healing
Shop 1/288 Dawson Parade,
Arana Hills Qld 4054
Banksia Women's Healing Centre is a natural Therapies Clinic that stands for "Empowering Women to be Happy and Healthy, reducing the feeling of being overwhelmed, exhausted, stressed or in pain"