This simple muesli bar recipe is tasty for the whole family. It gives you confidence knowing what is in the food you are eating. Have the children join in to make this one, sharing the love.
Now its time to make this muesli bars recipe
Ingredients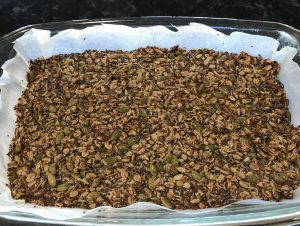 1 cup rolled oats
1 cup pepitas
2 tablespoons sunflower seeds
2 tablespoons chai seeds
1/2 cup shredded coconut
3 tablespoons coconut oil
1/3 cup honey or rice malt syrup
1 teaspoon vanilla extract
Method
Preheat the oven to 160 degrees and line a baking tray with baking paper and set aside.
Mix oats, pepitas, sunflower seeds, chia seeds and coconut in a bowl and set aside.
On stove top or in microwave, add coconut oil, honey and vanilla and bring to the boil, then remove from the heat
Combine both mixtures and mix until well combined. Press firmly into a 20cm x 20cm tin to make the muesli bar
Pop the bars into pre-heated oven and bake for approx. 15 minutes or until starting to turn golden brown
Remove from oven and allow to cool COMPLETELY on tray before moving them. This allows them to set. Cut into 12 bars & store in airtight container if they last that long.
120 Calories each
Would you like to try another proven, tasty seed recipe Yes please